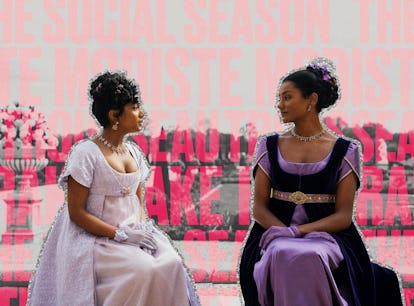 12 Bridgerton Vocab Words To Work Into Your Everyday Convos
Your group chat is about to get a lot more sophisticated.
Netflix's Bridgerton Season 1 was set in 1813, and Season 2 takes place a year later, in 1814. Although the series updates the romance stories for modern audiences, 200+ years is still long ago. Plus, not to get all 11th grade lit teacher on you, but English is a living language that constantly changes and morphs, with slang terms rising up and then falling out of favor. This Bridgerton glossary will help viewers track some of the show's language and explain what the Regency vocab words actaully mean.
Warning: Spoilers for Bridgerton Season 2 follow. Bridgerton Season 1 introduced several words that readers of Regency romance easily recognize, but modern TV viewers might not. The biggest one was "the ton," which most first-time viewers assumed was people saying "the town," but with a funny accent. In actuality, "ton" comes from the French phrase "le bon ton," literally meaning "good manners." The implication was that these were the well-mannered people of society.
The word "ton" came into use at the beginning of the Regency era and was considered the official slang term for Britain's high society by the end of the late Regency period (the end of the 1810s) and the reign of George IV that followed. Later, it was adopted by other groups who wanted to be seen as the "upper classes," including late 19th-century New York society. But in practice today, it is usually meant to mean anyone from the peerage, landed gentry, and/or London's wealthy merchants and banker class.
Here's what other words to learn from Bridgerton:
Bridgerton Seasons 1 and 2 are streaming on Netflix.