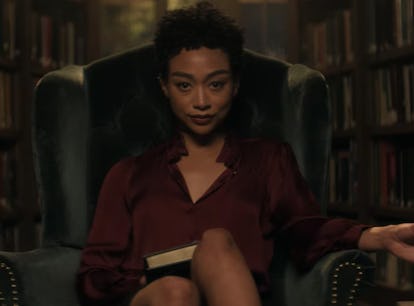 Here Are The Hottest TV & Movie Sex Scenes Of 2021
A year in raunchy review.
Netflix
Sometimes you turn on the TV to cry, sometimes to laugh, and sometimes it's to feel something. I mean... really feel something. While there are plenty of shows and movies out there with sexy scenes (hello, the entire Fifty Shades franchise), there's something exciting about watching a new, steamy story unfold for the first time. Sure, the classics are always great, but TBH, this past year did not disappoint in the way of producing scorching new clips to watch. If you're looking for the hottest TV and movie sex scenes of 2021, your search ends here.
Considering how wild 2021 was, it's honestly pretty amazing how much fire content was created. After a bleak stretch of time when television and film productions were shut down, new stories — and, more importantly, new sex scenes — finally graced viewers' screens. And yup, it was definitely worth the wait.
Whether you're searching for a mood-setting watch for date night or something sultry for a sensual solo viewing party, chances are, there's a sex scene that came out in 2021 that A) you haven't seen and B) will *fully* scratch your specific itch. From an employee's sordid affair with her boss to the hottest cupcake-eating scene ever, 2021 turned out to be the year of scandalous onscreen sex.
This article was originally published on