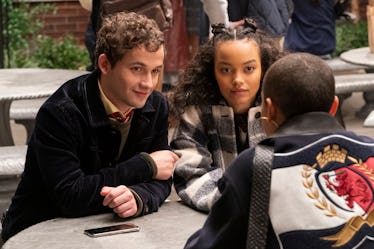 We Finally Know When Gossip Girl Season 1, Part 2 Will Premiere
Just in time for winter fashion inspo.
Karolina Wojtasik/HBO Max
Writers of the original Gossip Girl always understood the fandom was there for the scandal. That goes for both the identity of the mysterious GG as well as the episodic contents of the show bearing her name, which made sure to deliver twists to make viewers scream. In the final installment of the reboot's Season 1, Part 1, the new series remembered its manners and provided an array of affairs, with love, betrayal, and more. Now, thirsty fans are eager to know when Gossip Girl Season 1, Part 2 will arrive.
Warning: Spoilers for HBO Max's Gossip Girl Season 1, Episode 6 follow. The Part 1 finale, "Parentsite," was filled with denouements for nearly every central relationship going in Part 1. Zoya and Obie, for example, collapse (which everyone saw coming). But Obie's life choices might not be so hot on the rebound, as he hooked back up with his ex (and Zoya's sister), Julien. At least it makes his mother happy? Either way, there's one love triangle primed and ready to go, as Zoya is not someone anyone puts in a corner.
Then there's Rafa and Max, a relationship so problematic, even series creator Joshua Safran called it out. Max at least seems to be wising up to the toxicity of the situation and may even have gotten the Constance Billard St. Jude's teacher out of his system after getting down with both Aki and Audrey. As the central member Gossip Girl's first potential throuple, perhaps Max is ready to settle down a little bit.
No, don't be silly. Have you met Gossip Girl?
With so much relationship mess in every aisle, fans are already looking forward to Season 1, Episode 7, which will kick off Part 2 of the 12-episode first season. Safran, who has taken to Twitter ahead of each episode to spill some tea, has only said that Episode 6 was "the last one for a bit." But on Sept. 9, 2021, HBO Max announced the other half of the season will arrive in November 2021. Unfortunately, neither the streaming service nor the production has given a specific date, but fans at least know when to expect more hot goss to drop.
The good news is that Part 2 won't be the last, either. Along with announcing Part 2's premiere month, HBO Max also confirmed the show will be back for a whole second season. Although there's no premiere date announced for that yet, with Part 2 of Season 1 arriving in November, fans can probably expect to see Season 2 come sometime in mid-to-late 2022.
All six episodes of Gossip Girl Season 1, Part 1 are streaming on HBO Max. Gossip Girl Season 1, Part 2 will premiere in November 2021 with weekly episodes to follow.