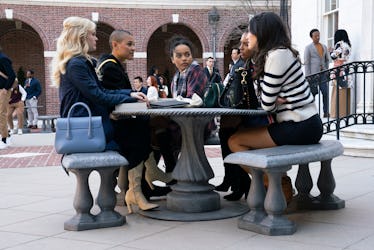 Georgina Sparks Returns In The Most Georgina Way In Gossip Girl's Season 2 Trailer
The true drama queen is finally back.
Karolina Wojtasik/HBO Max
The Gossip Girl reboot became HBO Max's biggest revival series since the streaming service launched in May 2020. The series also dominated on social media, with fans tweeting up a storm about every episode. It wasn't long before HBO Max announced a Season 2 for the scandalous teen drama, and updates came not long after the mid-season finale of Season 1. So, here's what we know about a Gossip Girl Season 2 — the "gossip," if you will, about the cast, what might happen in future episodes, and when they will be released.
Warning: Spoilers for Gossip Girl Season 1 follow. As fans know, the significant change from the original Gossip Girl series to the new one is that the identity of "Gossip Girl" is not a secret to the audience. It's the teachers working as a team in an attempt to terrorize their students into good behavior. At the end of the first half of the season, the teachers were already struggling to keep their project quiet.
The second half ended in an explosive revelation with Kate, Jordan, and Wendy going full tip-gate by posting a spreadsheet of every tip they'd ever received and who sent them. It took the heat off of who they were by putting it back on those who'd given up the goods in the first place. But that wasn't the end of the story, even though Kate seemed to have lit the fuse and walked away. The season ended with Julien making a pact with their unseen tormentor, telling Kate she had been too nice and cared too much. She had to take the gloves off, and Julien was going to help. Kate agreed but on one condition... which everyone will find out come Season 2.
Here's everything to know about HBO Max's Gossip Girl Season 2:
Gossip Girl Season 2 Renewal Announcement
On Sept. 9, 2021, almost a month after the mid-season finale of Season 1, HBO Max confirmed Gossip Girl Season 2 was a go. Although the streaming service took nearly a month to confirm, it always felt pretty inevitable. HBO Max had already declared the series the most-watched original title in its library since the service's launch in May of 2020. The premiere apparently brought in record viewership over its first days of availability as well. Though HBO Max did not reveal hard numbers, those statements made another round of episodes in 2022 feel like a foregone conclusion.
Gossip Girl Season 2 Cast
Season 1 is already a pretty crowded landscape. The initial series had a main cast of seven kids and one parent, which kept the focus on the Serena-Blair rivalry. Season 1 of the reboot is far more extensive. There are 16 main actors as part of the cast, which are divided into "kids," "parents," and "teachers," making for three focal points of drama.
As showrunner Joshua Safran explained to The Daily Beast, a cast of this size trying to establish themselves in viewers' minds means giving them ample screen time. That means any cameo from original stars would take away from the new cast, because the cameos would be all anyone focused on. It would also feel too short.
"If Blair showed up for two scenes, you'd say, 'I want more Blair,'" Safran told The Daily Beast. So, he made a choice to leave them out of it in Season 1 — but he's not ruling out cameo appearances from the OG GG stars in Season 2, since the new characters will be more established by then. "Let's get Season 1 under our belt, and should we get Season 2, we'll have the chance to bring in cameos that are more than glorified cameos but actually give them storylines."
One such return was confirmed on June 22. A brief teaser showed Michelle Trachtenberg reprising her role as Georgina Sparks in the new season.
In the original series, Georgina was a constant source of drama for everyone, and always had the wildest schemes to throw a wrench into things. The first season of the HBO Max reboot actually mentioned Georgina, and introduced her son Milo as the new generation of Sparks schemers.
Gossip Girl Season 2 Trailer
The Season 2 trailer dropped on Nov. 11, showcasing a ton of drama on the horizon. In particular, the footage focuses on Max's growing frustration at being kept a secret as his throuple with Audrey and Aki gets more passionate, as well as Julien's new rivalry with Monet as the two face off to be the true queen bee of the Upper East Side. And get ready for a whole new level of fashion, because the trailer also seems to tease a Met Gala-set episode.
But of course, the biggest moment in the trailer came at the end, when original Gossip Girl star Georgina Sparks suddenly appeared in Kate's apartment. Yep — it's about to get extra dramatic in Season 2.
Gossip Girl Season 2 Release Date
Gossip Girl Season 2 will debut on HBO Max on Dec. 1.
This article was originally published on