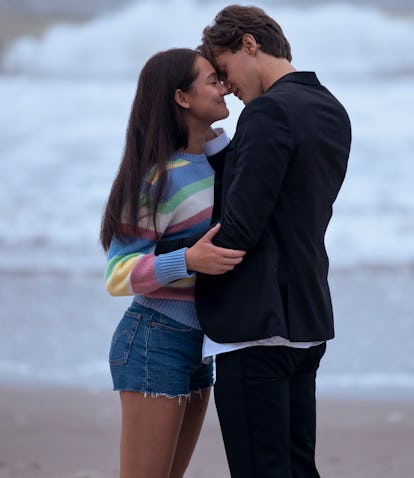 A Definitive Ranking Of All Belly's Kisses In The Summer I Turned Pretty
You can fight me on this.
Amazon Studios
In Jenny Han's 2009 novel, The Summer I Turned Pretty, kissing and desire are background details, alluded to but never given center stage. Amazon Studios' adaptation of the 13-year-old book changes this, with lots of help from Han, who modernized the story to paint a more current and realistic picture of Belly (Lola Tung), a 16-year-old girl caught up in a messy love triangle. Thankfully for fans, this makes for a lot of steamy scenes. Here's a definitive ranking of Belly's best kiss scenes in The Summer I Turned Pretty Season 1.
Throughout Belly's tumultuous summer at Cousins Beach — where everyone remarks she's really "grown up" when really they mean she went through puberty — she's pursued by three boys: her childhood besties, Conrad (Christopher Briney) and Jeremiah (Gavin Casalegno), and a middle school acquaintance, Cam (David Iacono). It's confusing and exciting for Belly as she tries to decide who's the best for her — which obvi requires lots of kissing.
All this kissing came with the help of an intimacy coordinator, Kristina Arjona, who Tung said made all the difference during these scenes. "It was really wonderful because I felt very safe in every situation," Tung told Elite Daily at the series' June 14 premiere in New York. "We had also established these wonderful friendships where we felt comfortable to be in those more intimate settings together."
The cast's ease with each other is evident in The Summer I Turned Pretty's kissing scenes. But which one is the best? Here's the ranking.