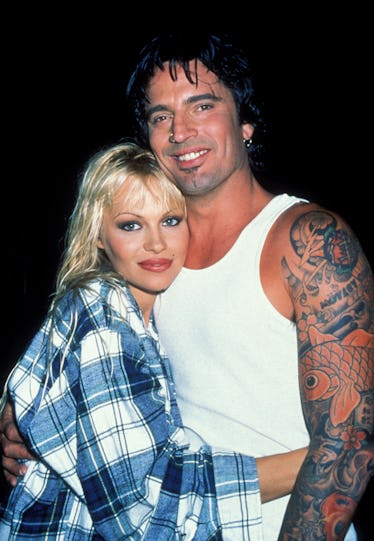 Pamela And Tommy's Relationship Timeline Is As Intense As It Gets
Introducing the OG toxic, on-and-off relationship.
Jeffrey Mayer/WireImage/Getty Images
"It really was love at first sight," Pamela Anderson, Playboy model and Baywatch star, said of her romance with Tommy Lee, the Mötley Crüe drummer, in 2015. And although that may be true — the couple got married in 1995 after spending only 96 spontaneous hours together in Cancun, after all — their volatile romance reads more like a cautionary tale than a fairytale. A quick glance at their romantic history makes one thing clear: Anderson and Lee's relationship timeline was tumultuous.
It's this explosive timeline that makes their relationship perfect for the upcoming Hulu miniseries, Pam & Tommy. Although Anderson and Lee's sex tape — and its impact on their romance — is going to be the main focus of the show, their relationship history has much more material for them to explore. (Good news if you're hoping for a Season 2!)
Still, their story is more jarring than entertaining. Since they first met on New Year's Eve in 1994, the once-couple has wavered between being completely in love and openly hating one another. Although they seem to be in a good place right now (in Nov. 2021, they were photographed together, supporting the opening of their son's swingers' club), who's to say what's next for them? If they stick to the same, unpredictable pattern, there's no way to know.
This is how their hot and cold relationship has gone so far.
Anderson and Lee are both married to other people now, so it seems like their love story might actually be over... for now, at least.
If you or someone you know is experiencing domestic abuse, call 911 or the National Domestic Violence Hotline at 1(800) 799-SAFE (7233) or visit thehotline.org.
If you or someone you know is seeking help for substance use, call the SAMHSA National Helpline at 1-800-662-HELP(4357).