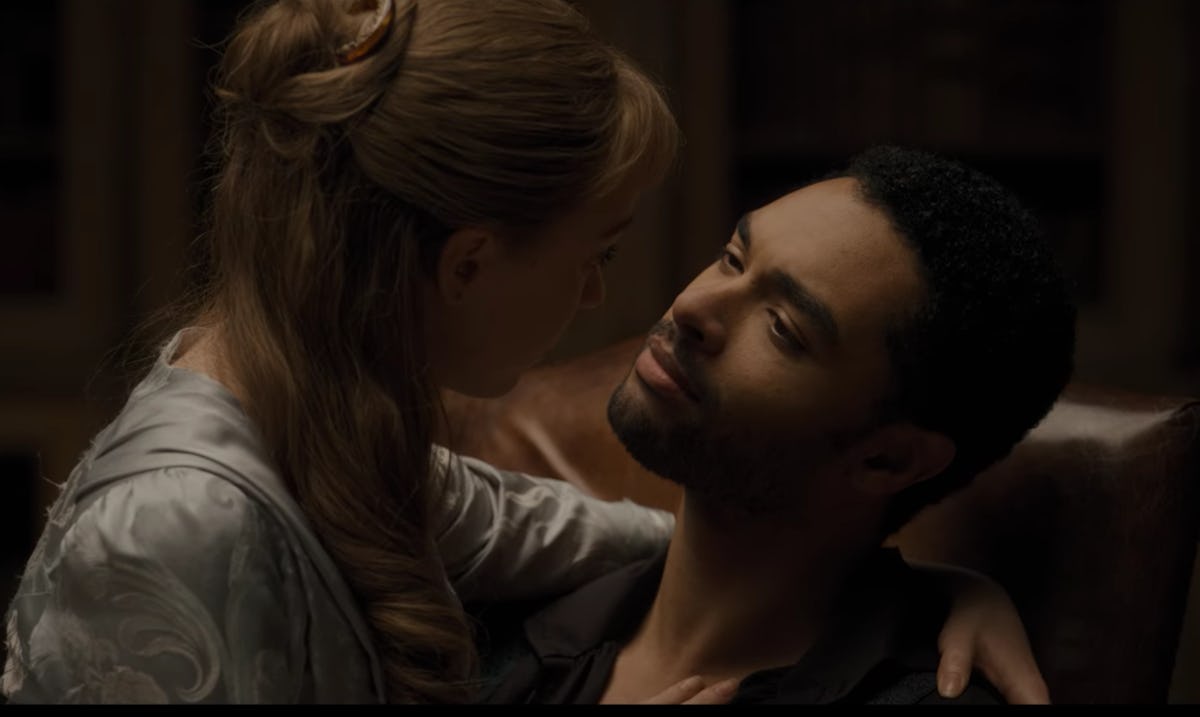 Here Are 8 Of The Hottest Sex Scenes In 'Bridgerton' Season 1 — You're Welcome
Netflix
When Bridgerton dropped on Netflix on Dec. 25, fans had a feeling they were in for a treat. The series, which hails from Grey's Anatomy and Scandal creator Shonda Rhimes, follows the Bridgertons, a wealthy family navigating their way through high society in 1813. With lavish parties, scandalous love connections, and a Gossip Girl-style publication that spreads secrets and rumors, it's decadently dirty. While there's a lot to love about the show, one of the more — ahem — exciting components of it are all the hook-ups. To put it bluntly, the sex scenes in Netflix's Bridgerton show off the steamy side of Regency romance.
Warning: Spoilers for Bridgerton Season 1 follow. Based on a set of nine books by author Julia Quinn, Netflix's Bridgerton series takes place about 200 years ago, when views on sex and marriage were somewhat old-fashioned, to say the least. For women, having ~relations~ outside of wedlock was grounds for ostracism, especially if you were from a noble household.
The main character of the show, Daphne, who hails from the renowned Bridgerton family, knows virtually nothing about the birds and the bees when the series begins. This is probably why she's so flustered upon connecting with the Duke of Hastings, the sexy Simon Basset. The pair quickly develops a mutual flirtation under the veil of friendship, which then turns into a full-blown sex-fest that's a feast for thirsty eyes.
However, while the series graces fans with a plethora of steamy scenes, not all of them are universally loved. Case in point: the non-consensual sex between Daphne and Simon in Episode 6. This is when Daphne — who really doesn't know much about baby-making — realizes Simon has been deceiving her. Up until this episode, Daphne thought Simon physically could not have children, but in reality, it was that he did not want to have them, so he'd been pulling out prior to ejaculating in an effort to avoid getting her pregnant. The next time they have sex after she learns the truth, she purposely doesn't let him get up or pull out, resulting in him ejaculating inside of her. The scene was instantly controversial, with some viewers calling it triggering while others chalked it up to Daphne being a flawed character who wasn't properly educations about sex and consent. Regardless of individuals' feelings, the scene leaves a lot of room for important conversations about consent and communication. But because of all the murkiness surrounding it, it's certainly not going to be considered as one of the hottest scenes from the show.
Luckily, there are plenty of other scenes throughout the series that are both sexy and consensual. So, let's celebrate them: