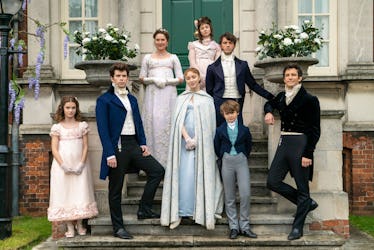 Here's A 'Bridgerton' Cast & Character Guide To Help You Keep All The Gossip Straight
Netflix
The biggest gossip of the holiday season is arriving via Netflix in the new series, Bridgerton. Based on the Julia Quinn series of romance novels, Bridgerton takes place in a fantasy of England's Regency era. It's a world where debutantes snare handsome, rich husbands and somehow manage to fall in love as well. It's also a world filled with gossip, drama, and scandal, all of which is reported in Lady Whistledown's Society Papers. This Bridgerton cast and character guide will help newcomers to this world keep the giant ensemble cast of characters straight.
Julia Quinn's novels were unique when they first launched in the romance genre, largely because of the interconnected nature of the world she built. You see, Quinn's Bridgerton series involves characters she originally wrote for some of her previous novels — most notably, Lady Danbury. These character crossovers also happen in the Netflix series.
There are several familiar faces among the enormous ensemble of the ton for longtime fans of the novels. But for those who are less familiar with the books, this sudden drop into an entire society can feel a little overwhelming. And that's not counting the titular Bridgerton clan, a family that alone consists of eight siblings. Don't worry — at least it's easy to keep them straight, as their parents had the foresight to name them in alphabetical order, A-H.
Here are the main players to keep track of: