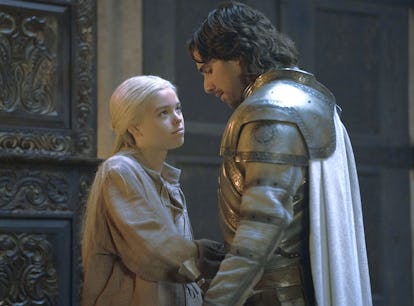 House Of The Dragon's Season 1 Sex Scenes, Ranked
Only one can be crowned the steamiest.
Ollie Upton/HBO
Game of Thrones was known for its sex, violence, and violent sex over the decade it was on the air. House of the Dragon's showrunners knew the new show would have a lot to live up to, even as they tried to minimize some of the less palatable aspects of their predecessor. The show does have plenty of bloodshed and gore, but so far, those have been kept chiefly separate from House of the Dragon's Season 1 sex scenes — thank goodness.
Warning: Spoilers for House of the Dragon Season 1 follow. House of the Dragon's first season takes place over 30 years, moving from the beginning of 2nd century AC to the year 129. Over that era, Viserys was named heir to the king, and he and his wife, Aemma, had a daughter, Rhaenyra, whom he named his heir. He then had four more kids with his second wife, Rhaenyra's childhood bestie, Alicent, while Rhaenyra married and had three of her own by two different husbands. Her second husband, Daemon, married three times and had two kids. By the time the series stopped moving forward rapidly, Alicent and Viserys' oldest two were also married (to each other).
In short, there was a lot of procreation. Love affairs started and ended; mistresses and consorts were kept and rejected. That's a lot of sex for the show to put on screen, and while not all of it made the cut, some of the stuff that does is pretty damn hot. Meanwhile, other scenes were definitely not. Let's run down all the major sexual encounters in the show, ranking them by how much fire they contained.
House of the Dragon Season 1 is streaming on HBO Max.