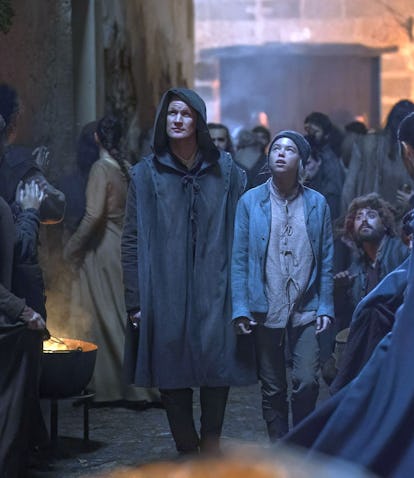 Here's How HOTD's Actors Really Feel About The Show's Sex Scenes
Thanks the gods (both the old and new) for intimacy coordinators.
Ollie Upton/HBO
Game of Thrones was about magic, dragons, and direwolves, but it was equally known for sex and violence. As the follow-up prequel series, House of the Dragon has a fine line to walk, showing the same base desires that drive Westeros, but in a radically different social climate. These quotes from House of the Dragon's actors about the show's sex scenes reveal how the series is changing its intimate moments — both onscreen and behind the camera.
Warning: Spoilers through House of the Dragon Season 1, Episode 5 follow. Conversations and criticism surrounding how women characters are treated and how sexually violent scenes are portrayed were constant throughout Game of Thrones' airing on HBO. And although House of the Dragon has toned down the sexual violence, the sex (and violence) is still there, and there's still a lot of it.
What's different now is how the show presents these scenes. So far, the first season of HOTD has been praised for portraying sex through the female gaze — at least through one eye. This can be credited in large part to how the series handles sex behind the scenes. Where Game of Thrones sex scenes were largely unchoreographed messes made up as they went along, House of the Dragon has an intimacy coordinator to facilitate these sensitive scenes.
Here's how the actors in the series feel about filming sex scenes in House of the Dragon.
House of the Dragon Season 1 continues with new episodes every Sunday at 9 p.m. ET on HBO and HBO Max.