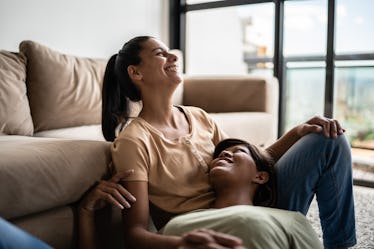 17 Signs Your Relationship Is Serious, According To Dating Experts
Your bond is strong and still growing. ❤️
FG Trade/E+/Getty Images
There comes a time in many long-term relationships, after things have been progressing for awhile, when you might step back and think to yourself, "Wow, we're really in this for the long haul." Maybe it's one super romantic moment that brings about this realization, or maybe it's a collection of shared experiences that build up that deepening bond. The signs your relationship is serious aren't always easy to spot, but when you know what to look for, you can feel more confident in your growing connection.
When you start to establish a routine together as a couple, you might not even notice how serious things are becoming. After all, relationships take hard work, and there will definitely be days when you're frustrated and angry at one another. But these challenges, if worked through in a healthy way, can help your partnership grow strong enough to weather the storms. Before you know it, your friends might be asking, "So, things between you and your SO seem pretty serious!" And you realize… wow, they're totally right! But if you want some expert approval that your partnership is super solid, look no further than this list of reliable signs. If several of them feel like they apply to you, congratulations! You and your partner share an amazing connection that took real time and energy to build. And if you're not quite there yet... don't sweat it! Keep spending time together and making memories, and you'll be heading in the right direction.
If some of these signs apply to you, it's a good indicator that you and your SO are serious about each other, which is such a beautiful thing! You should be proud of the partnership you've built. A great relationship takes dedication, patience, and love to grow, and you've clearly got those in spades. Now go kiss your someone special — you're doing the dang thing together!
Sources interviewed:
Susan Winter, love and life mentor
Clarissa Silva, behavioral scientist
Diana Dorell, intuitive dating coach
Eileen Conroy, former therapist and current mental health expert
Ian Lang, relationship expert
Laura Doyle, relationship coach
Jaida Pervis, relationship expert and certified matchmaker
Nicole Moore, relationship expert
Amber Lee, certified matchmaker
This article was originally published on