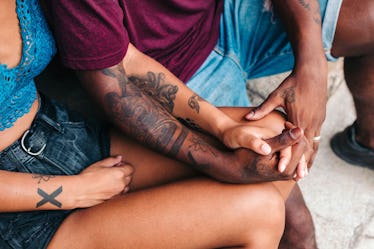 5 Ways To Build Trust In Your Relationship, Because It's Not Always Easy
When we think of the key components that form the foundation of a healthy relationship, trust is at top of the list. It makes sense, too — trust gives you a sense of security, and allows you to be honest in sharing your needs, feelings and experiences without fearing that your boo will run in the opposite direction. But how do you build trust in your relationship? The thing is, while there may be a certain degree of trust when you start dating someone, you typically need to earn it. Fortunately, there are ways to strengthen trust, and in the process, strengthen your bond.
Indeed, trust can definitely be damaged, but it can also be repaired. And as it grows, it can have a dramatic impact: The more trust you and your partner mutually have, the more you both can be your authentic selves.
"Real trust is knowing that you can be open and vulnerable and that your partner will not exploit your vulnerability but, instead, will do everything they can to let you know that they've got you," explains Dr. Gary Brown, a prominent dating and relationship therapist in Los Angeles. "The ability to sustain love over the long haul is utterly dependent upon developing trust so that you and your partner can feel safe being open and authentic with each other."
So, how do you build trust? Here are a few tried-and-true tactics recommended by relationship experts.