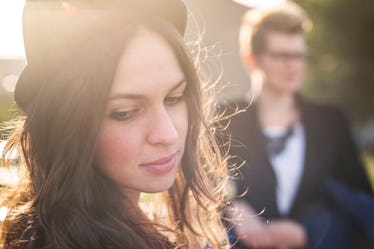 Experts Say This Is How To Rebuild Trust After You Cheated On Your Partner
If you've ever cheated on a partner, or been cheated on, you know all about the cataclysmic effect that infidelity can have on trust in a relationship. Relationships don't always bounce back from cheating, but here's the good news: It doesn't have to be the automatic deal-breaker you might think it is. In fact, it is possible to come back from cheating, but it takes hard work and two willing parties. Knowing how to rebuild trust after you cheated is essential to getting your relationship back on a healthy, happy, and perhaps even stronger track than it was before.
Believe it or not, according to Anita Chlipala, licensed marriage and family therapist and author of First Comes Us: The Busy Couple's Guide to Lasting Love, it really is possible to rebuild the relationship to a point where it's actually stronger than before the infidelity. "Despite common belief, couples can not only rebuild trust after infidelity, but make their relationship stronger than it's ever been," she tells Elite Daily. "Most of the infidelity that we see is that the person who cheated didn't go out with the specific purpose of cheating. There are so many variables that come into play that you probably don't need, but couples can leave their relationship vulnerable to cheating by assuming it won't happen in their relationship, not defining cheating, downplaying threats, and not being diligent about boundaries and appropriate behaviors."
It's possible, but Chlipala stresses that this will take work — and patience. "Although it can vary for each couple, a good benchmark [for how long it will take to rebuild the trust] is 1-2 years," she explains. "An important milestone to hit is the one-year anniversary of finding out about the infidelity. If used well, the time has allowed for some of the triggers and emotional reactions to lessen, giving the couple opportunities to learn from the infidelity and strengthen their relationship."
Believing that there is hope for the future of the relationship is just the first step to rebuilding the trust that was lost. Here's what the experts say is the actual work necessary to make that a reality.