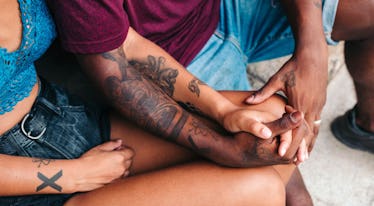 Here's How To Work On Trust In A Relationship, Even After It's Been Broken
Trust may come easy to some people, but sometimes building trust can be a challenge — maybe things got off to a rocky start, or maybe you or your partner have been hurt by past partners and it's left you wondering how to work on trust in a relationship. In any case, the good news is that trust can be built and even repaired — you just need to be willing to communicate with your partner.
And if you have problems trusting new romantic partners, or if you've had trust issues in the past, don't worry — you're definitely not alone.
"We've all had these issues when it comes to love!" psychotherapist, author, and relationships specialist LeslieBeth Wish tells Elite Daily. "Why? Well, we don't want to get disappointed, fooled, hurt, misunderstood or mistreated! Falling in love means opening your heart and feelings and future. And we all probably have made missteps in love that have now made us a bit like the Cowardly Lion in The Wizard of Oz."
Whether you're dating someone new and want a strong foundation of trust, or you're recovering from a violation of your trust with a partner you've been with for quite a while, here's what you need to know about building and working on trust in a relationship.