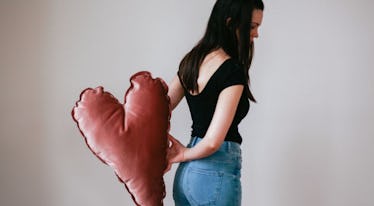 8 Women Reveal How Long It Took Them To Move On After Their First Major Breakup
Maybe you've just gone through a major breakup, or maybe you still get pangs of sadness when you think about an ex from years ago — in any case, any experience with heartbreak might leave you wondering: How long does moving on from a breakup take? I mean, what's normal when it comes to recovering from a broken heart? Should you be ready to get back on the saddle (AKA your dating apps) a few weeks post-breakup, or will it take more time than that to get over it?
The answer is that, well, there really is no answer. Everyone handles emotions differently, and every relationship is unique, so it really depends on who you are and what your relationship was like or how long you were together. If you were with your partner for several years, it might take you months to get to a place where you're ready to start dating again, and even years for you to feel fully recovered. A newer, more casual relationship, on the other hand, might not hurt as much or for as long, and you might find yourself moving on pretty quickly.
Basically, there's no right or wrong length of time, and however long it takes you to cope is valid. But that doesn't mean that it's not still super helpful to hear from other people who have had similar breakup experiences as you have. Here are real stories from eight women on how long it took them to get over a major breakup in the past, courtesy of reddit.