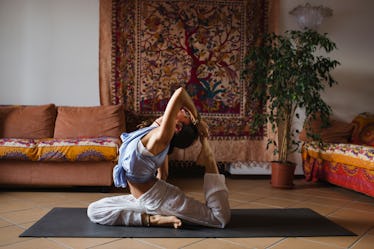 Why "Me Time" Is The Most Important Part Of Your 20s
What they don't tell you about being 20-something is that it's OK to be selfish sometimes. You're chasing after your own dreams and creating a path for yourself. You'll need a lot of "me time" to figure it all out. There's a lot of pressure that comes with surrounding yourself with people. You might not feel like you can totally be yourself, or find that you're following a crowd into a Saturday night plan you seriously didn't sign up for. That's why "me time" in your 20s is so important, and something we should always make room for in our schedules.
Whether you're traveling solo, or are soaking up as much time as possible in the shower before you have to face your roommates again — the moments you can keep to yourself are crucial. If you're an introvert, then you're probably a pro at personal space and love when you can snuggle up in bed to recharge. Extroverts don't quite have as much practice in this area, and might find it harder to disconnect from getting social and being busy every day. Like anything in life, it's all about balance.
The goal is to get in touch with yourself and focus on what you really want out of this world. Even just five minutes in the morning can mean the world when it comes to "me time." Here's why it's such an integral part of your 20s.