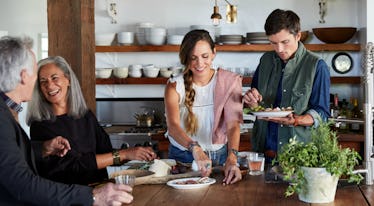 This Is The Secret To A Healthy Relationship With Your Partner's Family
The love you feel for your partner might come easy to you, but not everything in a relationship is so simple. Meeting your partner's parents or siblings for the first time, for instance, can be pretty stressful. You want to like them and you want them to like and approve of you, but everyone is different! You might get along swimmingly from day one, or you might struggle to have a healthy relationship with your partner's family. Sometimes these things just take time.
I spoke with author and licensed marriage and family therapist Anita Chlipala to find out her most important advice for developing and maintaining a good relationship with your partner's family — not to mention, why it's so important to do so in the first place.
"If the relationship [between you and their family] is tense, it can cause stress, anxiety and conflict with your partner," Chlipala tells Elite Daily. "It's a tough situation to be in when you love your partner and your family, and feel like your loyalty is divided or you try to appease both sides."
To avoid placing that kind of strain on your relationship with your partner, there's one thing you need to keep in mind: a little thing called respect.