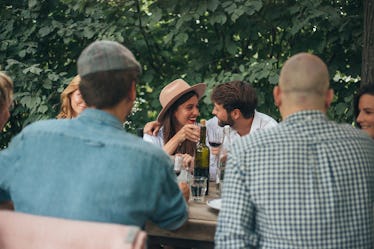 6 Brutally Honest Phases Of Meeting Your Partner's Family That'll Make You Cringe
Ever wondered what the the six most fraught words are in every serious relationship? Well, here you go: "My parents want to meet you." Just typing those words sent a little chill down my spine, not because I've had particularly bad experiences (not to brag but I do really well with parents, they find me delightful) but because I know the havoc that is about to take place in my head. The panic, the anxiety, the obsessing — they all feature heavily in the phases of meeting your partner's family for the first time.
Here's the thing. No matter how warm, wonderful, and welcoming your partner assures you their family is, you're going to spiral a little bit, so it's best to accept that right from the jump. The more you fight it, the more the awkwardness wins. Just try and remember you'll get through this — it's just one night of your life. And try to forget that you never get a second chance to make a first impression, and your relationship is totally riding on the success or failure of this meeting. No big deal, no pressure. Are you hyperventilating? Oh wait, that's just me. Anyway, here are the brutally honest phases of meeting the parents. Brace yourself for some serious cringe.