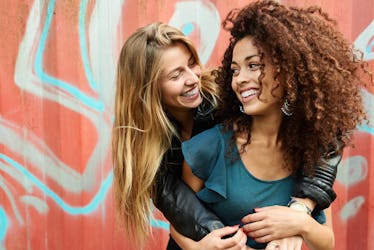 When You're In A New Relationship, This Is How Long It Takes For You To Trust Them
I think we can all agree that trust is an essential and foundational part of every relationship. There is no point in being with someone you don't trust. Sounds simple enough, right? But here's where it gets complicated. While you don't want to be with someone who has shown themselves to be untrustworthy, there is going to be some time when you're with someone new where you don't trust them yet, simply because they haven't earned it. But how long does it take to trust someone new? How long should you be willing to stay in this grey area? A week? A month? Six months? Are there any rules about this timeline?
To get a better idea of how trust in a relationship is formed, and how long you can expect building it should take, I reached out to intimacy and sexuality coach Irene Fehr, who explained that first and foremost, every person and every relationship is different, so there isn't an exact timing. Instead of focusing on days and months when it comes to earning trust, you need to be thinking in terms of relationship milestones, because time alone is not enough to properly earn trust for new partners. Here's what Fehr says really matters.