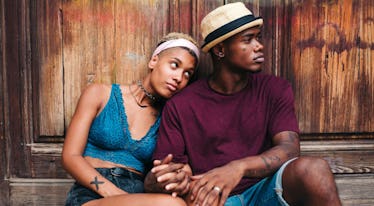 Here's When Your Partner's Past Should (& Should Not) Affect Your Trust In Them
Whether you've dated a lot of people or not, everyone has some sort of dating past, and that includes your partner. But, can your partner's past affect your trust in them? And if it does, is that fair? Finding someone you love and trust and feel a connection with is hard enough without worrying about how their past relationships went, too, right? But, there are some things you might want to know — and whether they're good or bad, that information can hopefully help you either way.
Of course, there are some things that are always deal-breakers (things like serial cheating and any sort of abuse), and those are things that, while upsetting, you'd definitely want to know so you can make an informed decision about the future of your relationship. But what about things like how many sexual partners they've had (spoiler alert: this really doesn't matter!) or other smaller aspects of their life before they were with you?
I talked to Diana Dorell, intuitive dating coach and author of The Dating Mirror: Trust Again, Love Again, to find out when your partner's past should — and definitely shouldn't — be cause for concern in your relationship. In any case, here's what you need to know.