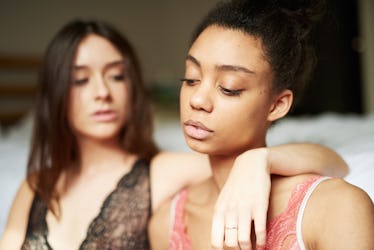 I Cheated On My Girlfriend — Here Are 15 Things I Wish I Had Known Beforehand
There comes a time in every relationship when your pillow talk turns from sexual fantasies to childhood memories to the uncomfortable questions you've been dying to ask about each other's past relationships: "When was your last serious girlfriend?" "Were you in love?" "Have you ever cheated?"
I've been cheated on multiple times: Some were benign make-outs, some were salacious hook-ups, and one was a full-blown affair. I know how much it hurts. I wish I could say that I'd never do that to someone, except I have. I once cheated on my ex-girlfriend Gianna* with my ex-girlfriend Charlie.*
Charlie had cheated on me, then suggested a threesome with another girl, and then left me for her. Yes, I needed lots of therapy to process that sh*t. I wasn't over Charlie when Gianna and I started dating. When Charlie showed up at my house one random Sunday night, texting me to tell me she was outside, I got in her car without hesitating. It was freezing outside and I remember our faces warming as we kissed and kissed and kissed. I didn't say a word the entire time I was in her car. I felt like if I stayed silent, I could pretend like it never happened.
And that's what I did. I rationalized that it was just a kiss — no big deal. But here's the thing: It wasn't just a kiss. When you have a girlfriend, it's never just a kiss.
When my current girlfriend asked if I've ever cheated, my knee jerk reaction was like being asked if I've ever had an STD: an immediate "no" while knowing... yes. Here's what I wish I knew before I cheated.