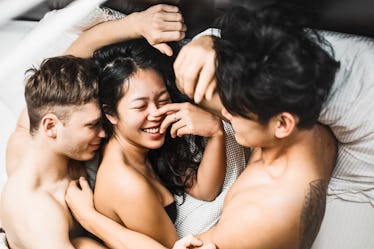 What A Threesome Is Like & 20 Things To Know Before You Try One
A few weeks ago, I was out with a girl that I'm dating and her friends. One of her friends teased her about her college threesome, and I was like, "Oh yeah, I went through a threesome phase too," and she was like all like, "Phase?" I was like, ".... Yeah." So, yes, maybe I have had more than the average one-time threesome, and I'm a wiser slut because of it. So what can I offer to you, babe? I can be your threesome spirit guide. Here's what a threesome is like, as told through 20 lessons I learned during my the-more-the-merrier phase.
So you've decided to have a threesome? Fabulous! There's some things you should be prepared for, beyond the normal shower-shit-shave you do to prepare for one-on-one sex. You know the basics — after all, this is still sex. But from figuring out how to procure a threesome to actually doing the deed, your night is about to become a little more wild than usual. Get ready for flailing limbs, intense feelings, and hopefully a whole lotta orgasms. Oh, and a scheduling tip: make sure to go back to whichever apartment has the biggest bed. Let's get to it: here's everything I wish I had known before my first threesome.