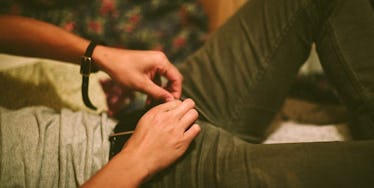 I Recently Had My First Threesome — Here's A Beginner's Guide To Yours
Howl
I never really considered myself the sexually adventurous type.
By no means am I calling myself "vanilla," but my experience in the bedroom only goes as far as the traditional things you can expect between two gay men. I'll let you soak up that visual on your own.
Maybe it's the gradual increase in age, or perhaps my new-ish job title that prominently features the word "sex," but lately, I've just been open for… anything, really.
I'm not saying I've been condomless, slutting myself around the streets of New York City.
What I mean to say is my typical, anxiety-ridden self has become much more aware of my options. I've become more comfortable in my own skin, confident in my actions and open to all possibilities.
That's why I was thrown off — but not completely surprised — when I had my first threesome.
Not one aspect of the experience was planned. After finding myself sandwiched between an attractive couple while dancing at a club, the setting we were in quickly morphed from a sweaty, strobed out dance floor to the confines of a large bedroom.
I'm not sure if it was the tequila coursing through my veins or what, but in that moment, I couldn't be stopped.
The Sean I know from two years ago never would've even approached these men, let alone follow basic strangers back to their home for a 2 am fuckfest. Call me a changed man, but I like the new me.
The new me had a threesome and would gladly do it again.
So from one beginner to another, here's everything you need to know when it comes to having your first threesome:
Don't phone a friend.
I found myself two class-act gentlemen (who happened to be together). We started off as strangers, but we're definitely not that anymore.
Since they already knew each other's bodies, they were pretty eager to explore every inch of mine. No real complaints here.
Sleeping with someone you're friends with is typically a recipe for disaster, so just imagine what would happen when they tag along for a menage a trois and you lose all the attention. Jealousy ensues, and suddenly, you're the odd man out of your own sexual fantasy.
Stick to a stranger. It's better to just go in, get off and get out.
Just go in, get off and get out.
Safety first!
A successful threesome should end with you laying with your head on the wrong side of the bed. You should be painfully exhausted, overly sweaty and surrounded by USED condoms.
Using protection is sex advice that shouldn't have to be repeated at this point, but you can't be too safe, especially if you listened to my first piece of advice and are partaking in a random threesome encounter.
Asking about being clean is never taboo, and neither is enforcing the use of a rubber. And don't even THINK about using the same condom if you're hopping off one dong and hopping onto another!
That's just gross, guys.
Keep all parties in the loop.
If you thought focusing on pleasuring one person was difficult, sorry to break it to you, but there's double the dick in the room.
Those Pornhub gang bangs may look like all fun and games, but in real life, you need to be attentive, assertive and prepared to give if you want to get. This is no time to be lazy.
There's double the dick in the room.
It's also pretty important to keep everyone entertained at all times. You're allowed to lay on your back every so often, but don't play favorites. Spread the wealth. No one wants to feel like the last person picked for dodgeball.
Try something new for once.
The odds of you running into these guys again are slim to none, so use this as an opportunity to live out your wildest fantasy. I never had the opportunity to top before, and lo and behold, now they call me the Penetrative Prince.
Well, I gave myself that title, but you can't take my crown away from me.
Channel the fiery intensity that comes with being exposed to two naked people at the same time, and make the damn most of it. If there's something you've been yearning to try, now's your chance.
This is a judgment-free zone.
Just go with the flow.
I'm a man who requires a plan in most aspects of his life, but for this, I threw caution to the wind.
I know some people like to go into sex with strangers with rules and a guidebook to follow, but surprisingly, I was the complete opposite. Threesomes don't come around too often, and in the moment, I allowed myself to just let things happen.
I literally had no idea how to handle things, and as it turns out, that was the best kind of approach.
I literally had no idea how to handle things, and as it turns out, that was the best kind of approach.
Doubting yourself shouldn't be a thing. Just have fun — you're having a THREESOME.
(Besides, don't you want to experience what Britney Spears is really singing about in that godforsaken song, "3?" Turns out it's not just about counting!)
Don't fret, people — this experience hasn't spoiled me. I'm not going to expect perfect threesomes every time from now on. But best believe I will be having another one.