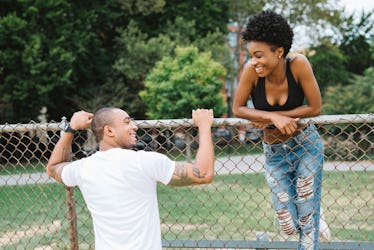 Here's Why Healthy Communication Is Such A Big Deal In Relationships, According To Experts
To say that communication is the foundation of a healthy relationship is honestly a cliché at this point. You've no doubt heard it a hundred times, from everyone you know. But sometimes, when you hear something so many times, you forget to stop and think about what it really means. For instance, you know it's true, but do you ever ask yourself why healthy communication is the foundation of good relationships? When you start to break down that question, the answer becomes real clear, real quick.
In order to dig a little deeper, I reached out to Pricilla Martinez, a life coach at Blush Online Life Coaching, who told Elite Daily that "communication is key to any relationship in order to ensure both partners are moving in the same direction in terms of commitment, but more importantly to spare one another unnecessary heartache." Well, sure, that makes sense, but what exactly does it mean, like, in practical terms? How does open, honest, and sometimes fearless communication actually affect different aspects of your relationships? Because only by drilling down a little deeper, can we break out of the cliché and really understand why communication matters so much. Here's what Martinez had to say.