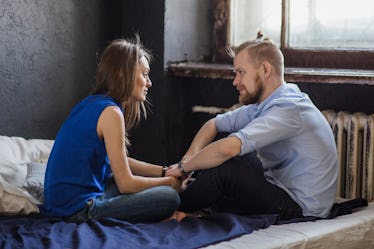 This Is Exactly What People Mean When They Say Relationships Are Hard Work, & Wow
If there is one thing we've all heard about being committed to someone, it's that relationships are "hard work." It's a phrase you will inevitably hear any time the topic of relationships comes up, but honestly, every relationship is so different, that who really knows what people mean when they say relationships are hard? While we may all think it's true, we don't often stop to think about what "hard work" really means. Have you ever consciously stopped to really break it down for yourself? Probably not, and for the most part that's fine. Just having a general understanding that all relationships take some amount of effort is a good attitude to have, especially when you and your SO inevitably hit a rough patch. You can't be caught off guard by what you're already expecting, right?
However, having only a vague notion about what "hard work" means can become a problem when, by not knowing what normal "hard work" is, your ideas of what qualifies as healthy effort, what is toxic, or what is just plain not working, can become clouded.
So, let's talk about what kind of "work" all relationships should take, so you can make sure to know when to stay in the fight, or when to GTFO, with the help of some relationship experts.