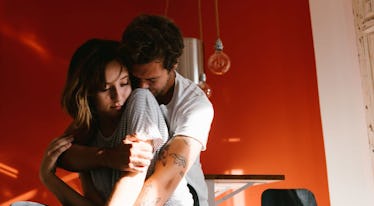 5 Signs You're Afraid Of Intimacy, According To An Expert
When I met my current partner, they knew pretty much right away that they wanted us to be together. I, on the other hand, needed more time to stew in indecision. It's not that I didn't like them, or enjoy being with them, or that they had given me any reason why I shouldn't take that leap. I just needed time — time to process, time to waver, time to get over my terror of commitment and its unavoidable, terrifying companion: intimacy. You see, I was showing one of the many signs you're afraid of intimacy. In this case, I was pushing away someone who wanted to be close to me because I was just straight-up scared.
My fear of letting people get close to me comes from a checkered past in my relationships — with lovers, friends, and even, sadly, my family. I've been hurt by the people I loved and trusted, and as a result, instead of embracing intimacy, my subconscious goes on red alert when someone attempts to get close to me. I experience it as a red flag. I go into fight-or-flight mode and do things that, honestly, aren't the most healthy.
There was a time I didn't even realize my reactions were a pattern. I just thought this was how life was. But as it turns out, it doesn't have to be, and you can get over your fear of intimacy eventually if you put in the work. The first step is to recognize that you even struggle with it at all. So, I reached out to experts in order to understand the signs someone might be afraid of intimacy. Here's what I learned.