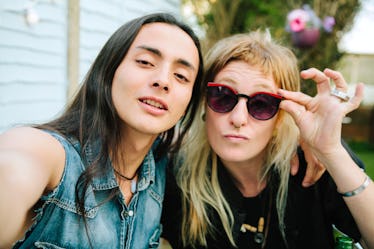 If You're Ready To Make Your Relationship Instagram Official, You'll Notice These Things
My "how-to" book on modern dating would probably be called: Some Of You Have Never Stayed Up Wondering The Chillness Of Instagramming A Fun Mirror Selfie With The Person You've Been Seeing But Have Yet To DTR With And It Shows. A contemporary dating conundrum, understanding when you and your boo are ready to make your relationship Instagram official is nothing short of complex. Apart from debating if you look cute in the shot or if it's extra to use Huji Cam on literally every picture you post (you do and it's not), it's natural to stress a little about the timeline of being Instagram official with your new boo — especially if haven't yet clearly established the nature of the relationship IRL.
"Social media is the coming-out party for your new relationship," bestselling author and relationship expert Susan Winter tells Elite Daily. "It's the location where official notifications are made."
Apart from a banging selfie or a trusted self-timer shot, a full-body pic of you and your boo was most likely taken by someone else. Maybe you're out with friends and someone snaps a casual shot (to which you very seriously reply, "Can you send me that?") or maybe you Suburban-Mom it, and as the waiter to take your picture. If you and your boo like to go out or if you both take pictures frequently and casually, you may have an arsenal of cute pics of both of you in good outfits, dying to hit the 'gram.
Rather than questioning how many dates or weeks with a new person before it's OK to post, Winter suggests simply asking if they're OK with the photo. "As it's your IG account, you're free to to post whatever you like as long as the other person(s) are in compliance," Winter says. "Rather than counting the number of dates as a barometer to correct behavior, ask your date directly. 'Do you mind if I take a photo of us?' If they seem hesitant, don't push it. Respect their boundaries and judge the correct protocol as time goes by." If you and your boo are ready to be totally #Instaofficial, you may notice that they're fine with getting their picture taken and having it shared. If your new date seems to be a little hesitant, maybe skip the shot of you both and go straight for an #OOTD or #foodporn from the date.
According to Winter, there are some IRL signs that you and your date are ready to be Instagram Official. "Your partner will introduce you as their boyfriend or girlfriend [or partner], and make sure that you're included in their social circle and important functions. You'll be spending more time together, consistently," Winter says. "Social media is the coming-out party for your new relationship."
Of course, if you and your boo tend to prefer more casual dates, it may feel less casual to post. Is a pajama selfie of you both staying in to order takeout and watch both Fyre documentaries in a row basically sending out a "Save-The-Date?" Do you need to be IRL official for your boo to grace your Insta? According to Winter, not necessarily. "That's an important discussion down the line, but not necessary if you've asked for their permission first," Winter says. "Most people don't mind having a photo shared on social media unless it's misrepresenting them, or their relationship to you." If you can talk to your date about Instagram consent, it may mean you're ready to be officially #Instagramofficial, even if you haven't DTR. If you and your date are enjoying spending time together and both feel comfortable sharing a fun pic of that, you don't need to be exclusively dating or IRL official to make an appearance on the 'Gram.
If you want to Instagram something other than just yourself, it's important to consider the consent of everyone in the picture, no matter your romantic status. Winter suggests letting your date choose the post once you've narrowed it down to two pics, or asking your boo to help perfect your caption. Getting them more involved with the Instagram may help them feel better about your relationship going public. "This gives your date a sense of comfort as they can actively control how their image is perceived relative to you," Winter says.
If you've been consistently spending more time with your date, have began to use words like girlfriend, boyfriend, or partner when introducing each other, and feel included in their social circle — it may mean you and your boo are ready to go Instagram Official. Of course, the most important sign isn't really a sign at all: it's direct consent. Making sure your date is good with having their picture be taken and being featured on your social can ensure that everyone is on the same page, IRL and on the 'Gram. At the end of the day, the best time to make your relationship Insta Official is whenever you and your date feel ready to.