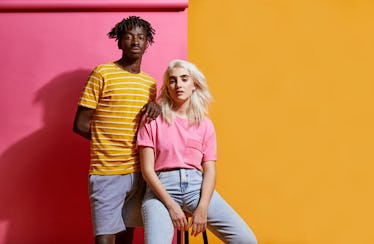 12 Summer Lovin' Instagram Captions For When You Finally Define The Relationship
I'm in the camp that believes that the more a couple posts on Instagram, the less ponies-and-rainbows that couple is off Instagram. TBH, I'm not exactly sure where I came up with that theory — it could have been an article in the New York Times that I misconstrued while trying to deny that an ex had moved on — still, I stand by it. That said, an Instafficial post is inevitable in this post-Facebook-official age, so here's my two cents: If you are choosing Instagram captions for defining the relationship, don't take yourself (or your relaysh) too seriously.
TBRH (to be really honest), putting your relationship online for all to see can be a big step. And it's a personal decision — the timing and tone of your first photo together might feel different than the way your best friend announced her relationship to the world.
But before I spiral harder than a millennial who's just figured out her ex's new bae's handle, there are plenty of good reasons for sharing your love with the internet. Reasons like... bragging! And saying "I told you so!" And showing your partner that you're not ashamed of them! Oh, and showing your appreciation for the cute, kind person you're dating on a public forum.
I think that it's possible to be adorable and snarky at the same time when posting about your relationship. It's fun to poke fun at yourself when you're having a sweet time in life. Taking your relationship a little less seriously on Instagram than you take it in real life is actually healthy. A LOLz caption will probably even get you more likes! So if you're ready to make things Instafficial, here are some non-egregious captions for you to steal from me.