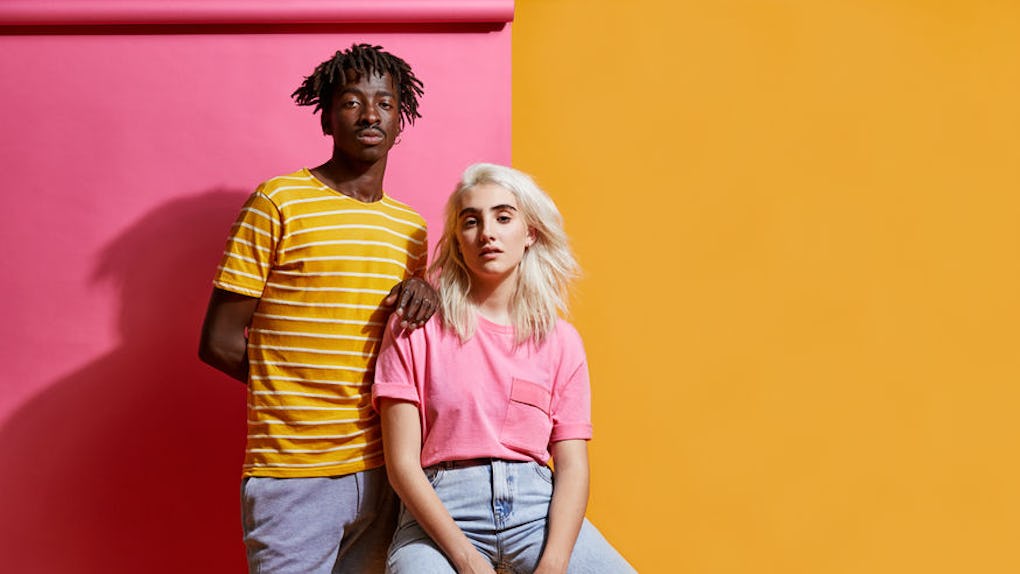 STOCKSY / ALTO IMAGES
12 Instagram Captions For Defining The Relationship When You Make It Official This Summer
I'm in the camp that believes that the more a couple posts on Instagram, the less ponies-and-rainbows that couple is off Instagram. TBH, I'm not exactly sure where I came up with that theory — it could have been an article in the New York Times that I misconstrued while trying to deny that an ex had moved on — still, I stand by it. That said, an Instafficial post is inevitable in this post-Facebook-official age, so here's my two cents: If you are choosing Instagram captions for defining the relationship, don't take yourself (or your relaysh) too seriously.
TBRH (to be really honest), putting your relationship online for all to see can be a big step. And it's a personal decision — the timing and tone of your first photo together might feel different than the way your best friend announced her relationship to the world.
But before I spiral harder than a millennial who's just figured out her ex's new bae's handle, there are plenty of good reasons for sharing your love with the internet. Reasons like... bragging! And saying "I told you so!" And showing your partner that you're not ashamed of them! Oh, and showing your appreciation for the cute, kind person you're dating on a public forum.
I think that it's possible to be adorable and snarky at the same time when posting about your relationship. It's fun to poke fun at yourself when you're having a sweet time in life. Taking your relationship a little less seriously on Instagram than you take it in real life is actually healthy. A LOLz caption will probably even get you more likes! So if you're ready to make things Instafficial, here are some non-egregious captions for you to steal from me.
1. "PSA: swiping works!"
This is for the couple that met on the interwebs. I love pride about meeting on an app, because it's 2018, babies!
2. "If you're dating someone and you don't put it on social media, are you really dating them?"
Philosophical, yes. Makes me want to stroke my nonexistent beard. I love how meta this is — you can't be that obnoxious Instagram couple if you're self-aware, I promise.
3. "Decided to IPO."
I know, I know. At first referencing an IPO, or "initial public offering" — you know, when a company decides to go public and have stocks and all — on Instagram seems like a totally nerdy move, but I personally love it. Clever and completely tongue-in-cheek. You can add a clarifying hashtag like "#initialpublicoffering" or even "InstagramPostOfficial." See what I did there?
4. "How many fewer likes do I get on this pic because there's a dude in it?"
Men or women who are attracted to you, even if they themselves are in relationships, are extremely transparent in their distribution of likes. You single in a bathing suit on a boat? So many likes coming in hot. You and your boyfriend in bathing suits on a boat? There might be fewer.
5. "I'm [Insert Name Here], and I approve this message."
You have to picture this under a photo of you and your new boo thang at a wedding or on the beach — it's a bit cryptic, but it acknowledges the fact that, yes, the first Insta post is a big deal, and, yes, you and your partner definitely talked about it before you did it.
6. "I didn't tell him I was making it Instafficial, hi @[insert handle]!"
Alternatively, you could drop this bomb on your very sweet, confident, and understanding SO. Why the eff not? You're dating!
7. "Me and my hostage."
Because isn't dating a prison, really? Just kidding. But again, when it comes to Instagram, keeping things completely non-serious is my favorite.
8. "Let's be real, just posting this to brag."
I love an honest caption. I love when people peel away the Instagram filter facade and get real. I would even go so far as to say it's deeper than posting something like "my special person."
9. "My therapist: Why not just be single for a while? Me: Say no more fam."
A meme-riff for the OG meme platform, because MEMES ARE SILLY AND SO ARE COUPLES' POSTS!
10. "Single and ready to mingle."
It's funny because you clearly are not and you are in a photo with your new boo! Right? Right.
11. "It's a boyfriend!"
Or "It's a girlfriend!" Poking fun at another type of Instagram announcement is a fun move.
12. "Well, um, actually a pretty nice little Saturday, we're going to go to Home Depot. Yeah, buy some wallpaper, maybe get some flooring, stuff like that. Maybe Bed, Bath, & Beyond, I don't know, I don't know if we'll have enough time"
This quote from Old School is a good caption if your "announcement" is accompanied by a pretty boring looking photo of you and your partner doing something mundane. But in all seriousness, congrats on your love. It's something to post about!