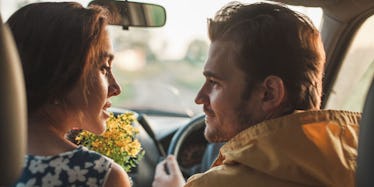 This Is What Your Go-To Date With Your Partner Reveals About Your Relationship
When you're in a relationship, it's easy to slip into a routine for date nights. You can have a go-to activity that both of you enjoy and doesn't require you to put in too much effort after a long day of school or work. But what does that mean about your relationship if you do have one specific date you both always fall back on? These regular date night ideas reveal aspects of your relationship you may not think of.
It's true that returning to an activity that has led to fun, romantic, and memorable nights in the past would be a reasonable things to do. If you've enjoyed it before, you think you'll have a good night with your partner again. And once you're already in the relationship, you sometimes forget to plan special things for that person because, hey, you've wooed them already. They've chosen to be with you, so a frequent lazy date to spend time together is fine, right?
Well, I spoke with Samantha Burns, relationship coach and author of Breaking Up & Bouncing Back, to see what repetitive go-to dates reveal about a relationship, and what they can mean for the relationship's future.