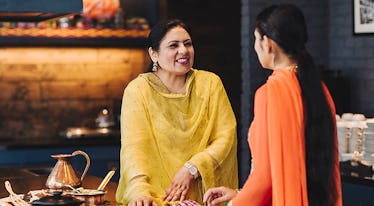 7 Ways To Bond With Your Partner's Mom, So They Know You're All In
Meeting the parents is one thing, but bonding with them is a whole other ball game entirely. Every parent-child relationship is different. Some people are closer to one parent, others are equally close to both parents — situations can vary. If your partner's mom is the center of their world, then it may be best to focus on ways to bond with your partner's mom. If your partner lives for their father, make an effort to bond with them. And, if your partner is incredibly close to both parents, forming some sort of connection to each parent can be really beneficial to your relationship.
The more serious a relationship gets, the more important it can be to have a good relationship with your partner's parents. "As the relationship progresses, their family will become your family," Damona Hoffman, relationship expert and host of the Dates & Mates podcast, tells Elite Daily. If you and your partner's parents don't get along, it may result in some pretty uncomfortable situations when you all get together for the holidays or any special occasion. It may also put a strain on your relationship with your partner. So, in an effort to bond with bae's mom, here are seven ways you can foster a good relationship.