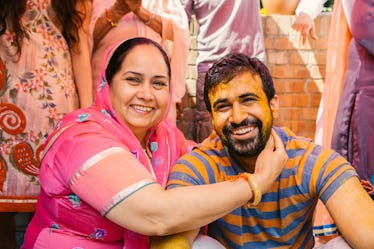 5 Women Share The Sweetest Stories About How Their Moms & Partners Bonded
I knew I really loved my last boyfriend the second I saw him wrap his (incredibly buff) arms around my mom at a time when she truly needed it. Without diving into all of the drama and hardships that had led up to that moment, my mom had had a really rough day, and my boyfriend made it his priority to comfort her in any way he could. It was completely heartwarming. Because honestly, is there anything sweeter than seeing moms and boyfriends or girlfriends getting along and building a connection that stretches beyond social niceties? No, no there is not.
Hopefully, your SO will never have to wipe away your mom's tears (it'll only induce more waterworks, trust me), but that doesn't mean they can't, and haven't, bonded in other adorable ways. Whether your partner shows an interest in your mother's interests, makes an effort to learn her native language, or the two of them join forces to take care of you in a moment when you need it most, there's really nothing lovelier.
Here are five ways that different women's boyfriends and girlfriends have clicked and connected with their mom. And uh, fair warning: You may want to break out the tissues for a few of these.