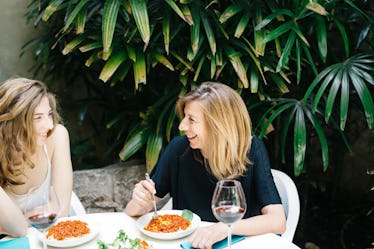 4 Signs Your SO Respects Your Mom, Because They Know Who You Call For Advice
There are a lot of little things that happen when you're in a relationship that might not seem like a big deal at first. But then, you realize how significant they are. For example, the first time your partner calls you a pet name, or the first time you split a check instead of one of you treating the other. But another little relationship milestone is when you notice that your partner enjoys spending time with your parents. (Which is definitely possible, believe it or not.) The signs your SO respects your mom aren't just heartwarming — they're super important if she's a big part of your life.
The thing is, if you're close to your mom in any way, it's probably important to you that your partner respects them. Sure, you might not be as BFF close as Lorelai and Rory Gilmore, but you still might trust, love, confide in, and have an overall special bond with your mom that any good partner should support and admire.
You might be a little nervous when your partner and your mother first meet, and that's totally valid. But if your SO and your mom end up really liking each other, you might find yourself looking for signs that your SO respects momma almost as much as (if not more than) you do.