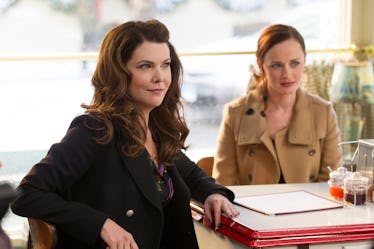 If You & Your Mom Have A Relationship Like Lorelai & Rory, You're Lucky In These 7 Ways
When you think about iconic relationships from your favorite TV shows, Lorelai and Rory's in Gilmore Girls likely tops the list. If you loved the show as much as I did growing up, you believed Lorelai was a #CoolMom, and loved the close relationship she had with Rory. As a matter of fact, if you and your mom have a relationship like Lorelai and Rory, you probably watched the show together (and when you did, it was like looking in a mirror).
You understand the movie night traditions, sharing clothes, and daily coffee breaks, because they ring true to the things you do with your mom on the regular. You feel beyond #blessed to have such a special relationship with her, because you can relate to these seven particularly awesome things.
Your mom is fun to hang out with, but she's also the best support system when you need her the most. (You get the best of both worlds when it comes to having your very own Lorelai Gilmore.) Now, all I want to do is have my mom with me, order some pizza, and start streaming Gilmore Girls on Netflix, because, "Oy with the poodles already," I love the Lorelai to my Rory tremendously.