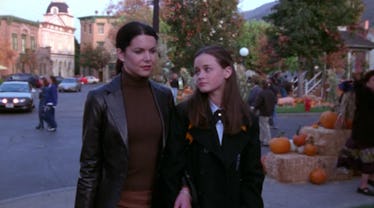 7 Cutest Places In The U.S. You Need To Visit If You Love 'Gilmore Girls'
Fall is around the corner, and that's usually the time of year when I dive deep into the world of Gilmore Girls and re-watch all the seasons. It's a tradition I started for myself — and now it's been made easier, thanks to Netflix — because there's just something about the fall that makes me want to revisit Stars Hollow. It's a small town with so much charm, and I wish I could visit it for real. Unfortunately, the real Stars Hollow doesn't exist, but there are some places to visit if you love Gilmore Girls that are located all over the United States.
According to The A.V. Club, it was actually Amy Sherman-Palladino's vacation in Connecticut that gave her the inspiration to put the characters we all know and love in a quaint, small town environment. A last-minute end of summer vacay to any of these seven destinations might provide you with some creative inspiration for your next project, or it'll just give you tons of cute pics for the 'Gram. Take the trip with your favorite Gilmore Girls bestie, and don't forget to snag a pic in the local diner, shopping for vintage items, and taking part in the town's festivities. Sounds like so much fun that I may tag along, because after all, "Where you lead, I will follow."