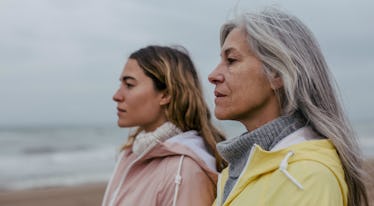 5 Important Boundaries To Set With Your Partner's Mom ASAP
What do you do when you have a great relationship with your partner, but struggle to get along with their mom? Maybe it's that she asks you one too many personal questions or is constantly butting in with unwanted advice— or maybe it's just that you're both vying for your partner's time and attention so much that it's creating a rift between you. In any case, if you're worried that conflict with her could wind up affecting your relationship, it's time to come up with some boundaries to set with your partner's mom.
I spoke with Dr. Gary Brown, a prominent relationship expert in Los Angeles, to find out why setting boundaries with your partner's mom is so important, how to talk to your partner about your relationship with their mom, and what sorts of boundaries you should be setting in the first place.
The most important thing to remember through all of it? You and your partner need to be on the same page — and if an issue arises, your partner needs to be willing to mediate the situation and talk to their mom if things get out of hand. But still, you want to keep things as positive as possible.
Dr. Brown tells Elite Daily that when broaching the subject of how your partner's mom makes you feel, you should find positive things to say about her as well, and avoid calling her names. You should also let your partner know that if they have issues with your parents, you're open to listening and working on those things together, too. The conversation shouldn't be about badmouthing each other's families, but rather, it should put the focus on what you both want out of your relationship.
"You guys get to decide how you want to define your relationship based upon your must-haves and your have-nots," Dr. Brown says.
"[Ask yourselves], 'What's our vision of our relationship? What's our vision of a relationship that's fulfilling?' And more than likely, that's not going to include an overbearing family member, or anybody else for that matter. It's going to include mutual respect for one another. It's going to include cherishing our partners. It's going to include protecting our partners from our families when our families aren't being appropriate.
With that said, here are some important boundaries you and your partner should set with their mom to avoid conflict.