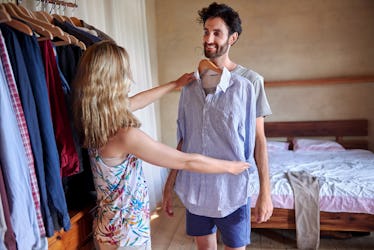 This Is How To Give Your Partner Advice Without Sounding Negative Or Controlling
In a healthy relationship, you ultimately want what's best for your significant other. You want to see them succeed, because their happiness is important to you. It's natural to feel the urge to give them a push in the right direction, whether they're prepping for a job interview or facing a conflict with one of their friends. Showing you care by sharing your opinion means you're invested in the outcome, but it's key that you understand how to give your partner advice without sounding negative or controlling. The way you advise your partner can affect how they hear the advice itself — and whether or not they take it to heart.
There's a difference between telling your partner what to do and suggesting possible solutions to a problem they're struggling with. If you're always giving your significant other advice, they might feel like you're being too controlling — even if they haven't flat-out said so. Choosing when and how to help your partner out can feel tricky, but it's actually pretty simple. I spoke to licensed psychotherapist and mental health advocate Allison Abrams, LCSW-R, about ways to prevent your guidance from coming across as overbearing. Here's how to advise your partner in a positive and productive manner.