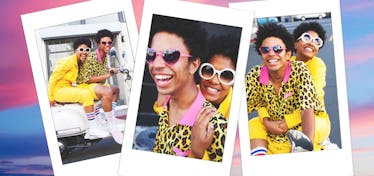 6 Dating Behaviors That Mean Someone's Fully Committed To You
Shanelle Infante, Elite Daily
An undefined romantic relationship may be just fine for you... until it's not. Perhaps you're itching to take things with your current lover to the next level, or you're trying to figure out if a different label better reflects what you two have. Whatever the reason may be, if your undefined relationship is no longer working for you, then you're probably wondering what dating behaviors mean someone's fully committed to you — lack of labels be d*mned.
Even if you're OK with not labeling your relationship, know that curiosity around what a committed partner looks like is only natural. Defining "commitment" as dedication, loyalty, and engagement, Sara Kuburić, a mental health professional and Canadian Certified Counselor, says it's important to people because it clarifies expectations and boundaries. "Clear boundaries and expectations, in return, provide a sense of safety and connection," Kuburić tells Elite Daily.
Likewise, Shan Boodram, a certified sexologist and ambassador for TENGA sex toys, explains commitment is crucial the same way job titles are. "It's a way for you to write something on your resume that explains what you do [for] others," Boodram tells Elite Daily. "It also holds you accountable and holds your employer accountable to what it is that you're actually responsible for."
If you're no longer satisfied with an undefined relationship and are wondering if the other person is on the same page, here are six signs they're fully committed to you, and you only.