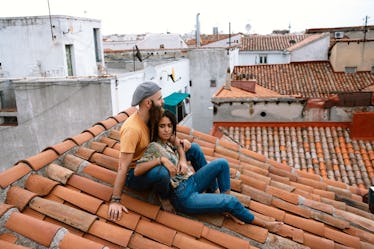 4 Dating Behaviors That Might Mean Someone Wants A Life-Long Partner
When you first start dating someone new, it could take anywhere from a few dates to a few years to know if they're the person you want to spend your life with. Compatibility can take time to suss out, and a desire for commitment isn't always easy to communicate for some. It's normal for you not to know right away that the person you're dating is "the person" for you, but according to relationship experts, there may be dating behaviors that mean someone wants a life-long partner that could indicate they're serious about settling down.
It's no huge secret that relationships can be tricky. Even when a couple is in love, they may be on two different pages as to what they want out of their union in the long run. Maybe one partner wants to get married ASAP, whereas the other can't think of anything they'd rather do less. Timing and perspective play huge roles in whether or not a couple can really make it work long-term, but so does intention. Thankfully, the signs your partner is looking for a life-long SO can be quite clear. Below, four expert-backed dating behaviors you might notice if your partner wants something serious.