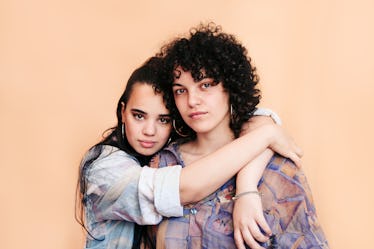 Here's How To Start A Convo About Exclusivity With Someone You're Dating
After dating someone for a while, there might come a time when you start to wonder where the relationship is heading. Even though starting a conversation about the future can be scary, it's the only way to ensure both people are on the same page. Using some relaxed conversation starters about dating exclusively is a great way to broach the topic without applying too much pressure on your partner. If the idea of having a formal conversation freaks you out, initiating mini conversations throughout the early stages of the dating process can be a less daunting approach. This way, you can figure out how someone's feelings little by little, instead of later down the line when you're already emotionally invested, according to relationship and well-being coach Shula Melamed, MA, MPH.
"I think having conversations about relationships and relating styles is a great way to front-load a conversation like this," Melamed previously told Elite Daily. "Getting a sense of what they are looking for, talking about future hopes and dreams, where they see themselves, how they would like to spend their days, what they want to do in their free time, [and] how they relate to their family, is a great information-gathering exercise." However, if you've been dating for a while and aren't sure how they really feel, here are some conversation starters to help you figure it out.