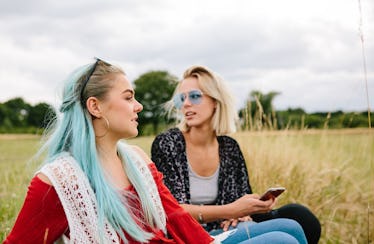 5 Foolproof Ways To Start The Conversation About Defining The Relationship
Once you've built up the confidence to talk to someone you're seeing about defining the relationship, the next step is to figure out what you're actually going to say. When it comes to knowing how to initiate the defining the relationship conversation, it's best to have a plan ahead of time. You can even prepare a short script on your phone or in your head, so that you have something to refer to if you get flustered. Just remember that it's important to listen to what the other person says and respond accordingly, and know that the conversation might not go exactly the way you planned.
As long as you're prepared to be flexible, though, there's nothing wrong with loosely following a script to help keep the discussion on track. Elite Daily spoke to two relationship experts: Kali Rogers, CEO and founder of Blush Online Life Coaching and author of Conquering Your Quarter Life Crisis, and relationship and well-being coach Shula Melamed, MA, MPH, about foolproof ways to start the defining the relationship conversation. Whether you want to be direct or you'd prefer to try a softer approach, there are a few key things to keep in mind when bringing up the subject of labels with a potential boyfriend or girlfriend.