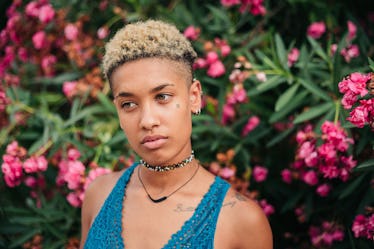 How To Tell If Your Partner Is Scared To Define The Relationship Without Asking Awkwardly
Cultivating a new relationship can go from really fun to really stressful quickly AF. More often than not, things begin to get intense right around the same time you realize you actually like the person you're seeing enough to want a label. As the weeks go by and you continue to date each other without talking about where things are going, at some point you're bound to wonder — is your partner scared to define the relationship? However, the "what are we"-induced panic that so many of us go through at the start of a new relationship is totally normal, so chill!
When trying to navigate the grey areas in relationships, it's so important to realize that you simply don't know what you don't know. You can obsessively replay every interaction you've ever had and analyze to your heart's content, all in search of proof that they are or are not interested in a committed relationship, or you can just... ask. I know, I know, talking about your feelings for someone when you're not sure if they're mutual is scary, but if the relationship has any potential for the future, then communication is key. I spoke with matchmaker Michal Naisteter of Three Day Rule to get her take on how to tell if the person you're dating might be apprehensive about moving forward.