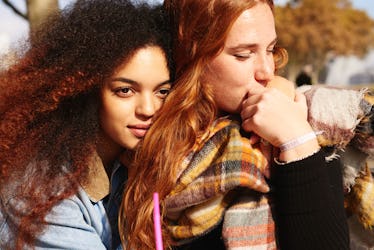 3 Zodiac Signs Most Likely To Initiate The "Defining The Relationship" Convo
In both life and love, our zodiac signs affect our instincts, desires, and behaviors. Some signs love confrontation, some love the spotlight, and some just want everyone to relax and get along. Part of transitioning from casual dating to actually being in a relationship is having the convo that defines this. So naturally, there are specific zodiac signs most likely to define the relationship, or DTR.
This could mean that some signs boldly launch into the conversation of "what we are," or it could mean that other signs might not have the guts to initiate the chat, even though they're ready and waiting for it to happen. Certain signs, like Libra and Gemini, almost relish in the drama of an undefined romantic affair, while others, like Sagittarius and Capricorn, simply don't have time for that drama. Other signs, like Scorpio and Leo, are almost annoyed that their partners would even have to ask if they're all in — after all, they're giving you their precious time, aren't they? If you're seeking to understand how you'd approach DTR or curious about how your current flame is going to handle it, looking to the zodiac can give you a little insight into how that conversation might go down.