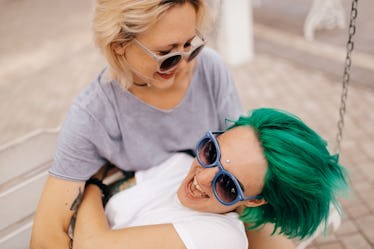 If You're Dating Someone With The Zodiac Sign Opposite Yours, Here's What You Need To Know
Whenever I hear the phrase "opposites attract," I think of the classic '80s Paula Abdul song by the same name. While she was attracted to a cartoon cat in the music video, chances are that's not your experience IRL. But you might find yourself drawn to someone who has different qualities than you have, opposite reactions to things, and instincts that challenge yours. If your differences attract you to another person, you might find yourself dating someone with the zodiac sign opposite yours.
While every person is unique and those born under the same sign could be completely different, your zodiac sign does affect your personality, instincts and certain behaviors. Your zodiac sign indicates how you might react to things, or your fundamental personality strengths and weaknesses.
There are six sets of opposing zodiac signs and they're located across the zodiac from each other, halfway through the calendar year. In each pairing, one sign needs what the other sign has, which makes their pairing fulfilling to each sign. These opposite pairings also have the same goals in life, which is great — but they have very different ways of achieving those goals. Because of these differences, there are challenges to these pairings. Let's get into it!