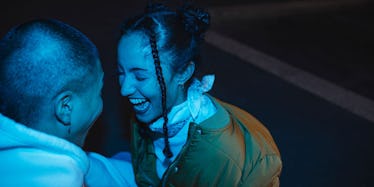 Here's Your Foolproof Guide To Defining The Relationship, According To Love Experts
If you've been dating someone for some time, you may be deliberating over how to define the relationship (DTR). You like that person, see them often, communicate with them, and have gotten to know who they are while you've dated them. The thing is, DTR-ing takes courage, and it's something you may want to plan out, at least a little bit. It's important to communicate your thoughts and feelings, so if you want to define the relationship into, well, a relationship, that's a conversation worth having.
It's all too easy to date someone and think you're supposed to play this game where you both never share what you're feeling. It's like, who can act the least interested while simultaneously making the other person super interested in you for the longest? The "game" or whatever it is is not worth it. It's so much better to put your feelings on the line, find out if the other person is on the same page as you or not, and be with them or move on. So if you've been dating someone and you want to officially be with them, here's how you define the relationship.