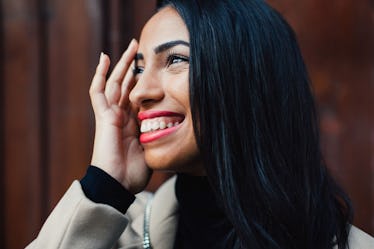 3 Tips For Feeling Way More Confident When Asking To Define The Relationship
As a goal-oriented 20-something, I always like to have a plan. I prefer things to be as organized as possible: I have an ongoing to do list on my phone, I try to keep my inbox at zero, and my small New York City apartment is relatively tidy. So when it comes to my romantic relationships, knowing exactly where I stand with someone is usually the goal. Unfortunately, I've never been as good at asking "What are we?" as I am at color-coding my bookshelf. When you feel like you're not confident enough yet to ask for a relationship, it can be easier to just "see what happens." But taking control of your love life is equally as important as maintaining a sense of sanity in your career and at home.
I spoke to two different life coaches about what to do if you want to define the relationship (DTR), but you're worried about being the one to open that door. They each gave a few helpful tips for navigating this understandably stressful situation, boosting your confidence, and ultimately getting up the nerve to ask someone you're seeing if the two of you can DTR. Here are three steps you should take, according to relationship experts.