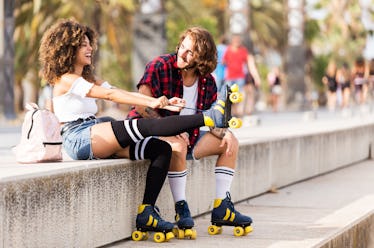 3 Signals They Want Something Serious You Can Spot On The First Date, So Keep An Eye Out
First dates can be pretty nerve-wracking. The thought of meeting up with someone new makes most people anxious, but that said, first dates can also say a lot about what type of relationship someone is looking for. Knowing how to tell if they want something serious can be surprisingly easy if you know what to keep an eye out for. This is because when someone is ready for a serious relationship, more often than not, they are going to be as direct as possible. After all, courting someone takes a bunch of time and resources, and after most people gain some experience, they'll realize the importance of not wasting their time on people who aren't ready for the same level of commitment as they are.
Of course, not everyone is going to put everything on the table the first night you hang out, because for some, that would probably be coming on too strong. However, the signs that a person is in relationship mode are still pretty straightforward. I spoke with NYC relationship expert Susan Winter and noted psychotherapist Dr. LeslieBeth Wish, to get their input on how to know on the first date that someone is looking for a serious relationship.