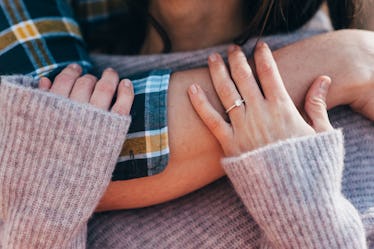 If Your Relationship Has Hit These 4 Milestones, A Proposal Could Be Next
How many times have you seen someone, whether in a rom-com or IRL, try to predict their proposal? Maybe their partner makes a dinner reservation at a special spot with nostalgic ties, or they spot some engagement ring research in their Google search history. But what if you could predict it before you had hard evidence? As it turns out, you might be able to. There are certain developments that are particularly meaningful, and if your relationship has hit these milestones, that could point to an impending proposal.
According to relationship and etiquette expert April Masini, relationships have milestones for a very good reason. It takes quite a bit of time to truly get to know someone, and these events allow you to deepen your intimacy and strengthen your bond so that you can then figure out if you actually want to say "I do." While every relationship is obviously different and will play out on its own unique timeline, there are certain significant events that can suggest you're ready to get engaged.
When you think of relationship milestones, saying those three little words or reaching your one-year anniversary may come to mind. But there are so many other important ones to consider if you're eagerly awaiting an engagement. If you've crossed these major milestones with your boo, then don't be surprised if they pop the question sometime in the somewhat near future.