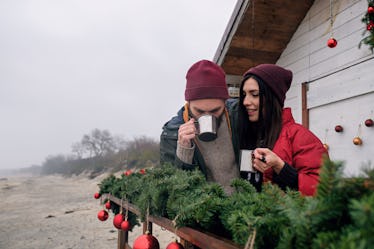 How To Talk To A New Partner About Where To Spend The Holidays, Because It Can Get Awkward AF
So, you're dating someone new and everything is seemingly going perfectly. You're having fun, you're feeling comfortable, and the future looks promising. But the holidays are coming up and you're wondering how to talk to a new partner about where to spend the holidays. First of all, don't panic. Talking to your boyfriend or girlfriend about where to celebrate the season can get awkward AF, but it doesn't need to!
Do you want to ask your main squeeze to spend the holidays with your family this year? Maybe you're hoping they'll invite you to meet their parents. Perhaps you have some family-free one-on-one time in mind for the festive season. Of course, it's also totally possible that all of this feels like it's too soon, and you're not sure how to let your new bae know that you want to do you own thing.
I talked to a few experts on the subject, who offered their advice on how to go about talking to your new boo about where to spend the holidays. Dr. Maryanne Comaroto, PhD says that while it's crucial to plan to have the conversation at the right time, "sometimes it feels like there is no good time to talk about [it], especially if you are in a new relationship." If you stick with this person for a while, you've got lots of serious talks in your future. But for a budding relationship, this particular chat might feel pretty daunting.
According to Comaroto, before bringing up the topic of where to spend the holidays with your partner, you should first consider "what's important to you during the holidays when it comes to your family and traditions." Are you flexible about how you end up spending the holiday season? Are your traditions negotiable? Do you think your partner would be comfortable participating in these holiday customs? Think about what your personal holiday priorities are so you can answer any questions your partner may have during the conversation.
Next, "consider your partner's current family scenario, commitments, and expectations," Comaroto tells Elite Daily. If your relationship is heading toward the serious zone, it's important to know these things about each other. Your ideas and priorities about family, traditions, and holiday activities say a lot about your compatibility with someone.
Once you've got a good idea about each of your holiday priorities, it's time to finally have the chat. It's understandable to feel nervous, but try not to freak out. Comaroto suggests saying something along the lines of, "'Let's talk about what we want to do for the holidays — when is a good time for you?'" If you bring the topic up casually, you'll set the tone for an honest and open conversation in which there are no wrong answers.
Lisa Marie Bobby, PhD, LP, LMFT, BCC, founder and Clinical Director at Growing Self Counseling & Coaching says that "spending holidays together can be a major milestone for a budding relationship, right up there with introductions to parents and attending weddings and other important social functions together." The first year of relationship is an exciting time, so try to enjoy yourself. All these "firsts" can be nerve-wracking to think about, but they also might end up being some of your favorite memories.
Spending the holidays together is a natural step for many couples, but exactly when that happens is totally up to you. Bobby notes that "broaching the subject for the first time can be anxiety-provoking ... [and] deciding what to do for holidays can make partners feel vulnerable and sometimes even torn" about how to spend the season. If you're both super family-oriented, it might be tough to decide what to do.
She recognizes that "it can be incredibly awkward to put yourself out there and invite your new partner to spend an important holiday with your family if you're not sure" exactly where they stand with your relationship. Do they see it becoming a long-term thing or do they view your time together as just having fun? Having the holiday talk means you might be "risking rejection, and possibly even embarrassment," she explains. "If you're a few months in to a new situation, don't assume that you're going to spend the holidays together." However, each relationship is unique, and if you're both ready to take that plunge sooner than later, then go for it!
On the other hand, your partner might have their sights set on you joining their family this year which you may or may not be feeling ready for. "A casual, 'Have you thought about what you'd like to do for the Holidays this year?' is a non-threatening way to explore whether your new love already has well-formed ideas about their holiday [plans]," Bobby says. The idea here is to have an open, chill conversation about your expectations. This can be totally scary, but you never know — maybe you're on the same page!
There's no official rulebook for discussing holiday plans (but I kind of wish there was, because it would have saved me from a few awkward chats over the years). According to Comaroto, "there is no right or wrong way to talk about how you will spend the holidays together... Be generous, open-hearted, and stay curious!" If you go into the conversation with an open mind and accept that your partner could respond in a number of different ways, it's unlikely that you'll be disappointed.
Bobby's underlying advice is that while the "conversation could go badly, most pitfalls can be avoided by good communication and emotional maturity." When it comes to long-term relationships, she says that you've gotta "be willing to let go of your ideas about the holidays and make space for their vision, traditions, and the other important people in their life." Stay open to your partner's ideas and feelings about celebrating the holiday season. After all, you might be sharing memories for several years to come.
If it doesn't work out to spend the holidays together this year, try not to dwell on it too much. You can always plan a special day before or after the holidays to exchange gifts, watch your favorite festive movies, go ice skating, make cookies, or do other cheery things together. While it may not be in the cards to celebrate family holidays like Thanksgiving, Hanukkah, Christmas, or Kwanzaa together this year, you might still be able to share a sweet New Year's kiss with your new bae.