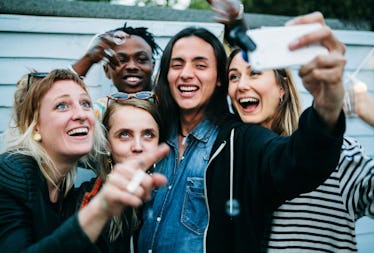 14 Funny Tweets That Sum Up Dealing With (& Surviving) Your Relatives Over The Holidays
When in doubt, laugh it out. That's the secret recipe to surviving and thriving in the most awkward situations in life, am I right? There were times when your family brought up embarrassing stories right in front of your new SO, or the moments when you just had to smile and nod. Been there, done that — and these funny tweets about spending the holidays with family are relatable AF.
The cast of High School Musical had it right: "We're all in this together." At first, you assumed that nobody else would understand the struggle of being called a "kid" — but then, getting asked a thousand #adult questions about your future. Ugh, what gives? (Girl, you should've known that you're never alone.)
Most of us have been in the exact same boat — dodging certain family members who tend to talk your ear off, and inevitably becoming way too passionate about the gift exchange. There have been times when you contemplated handing out note sheets with answers to, "How's school?" or, "Have you started applying to jobs yet?" (Sore subject, Aunt Karen. Please step aside. You're standing right in front of grandma's homemade chocolate chip cookies.)
These thoughts have gone through my head, too. Are we all just at the same party? These 14 funny tweets about the holidays with your family make you wonder, and also say "same."