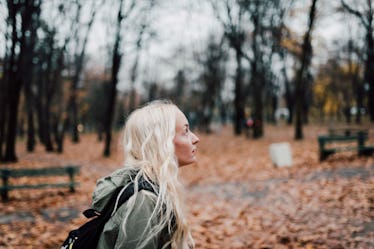 15 Real Struggles You Can Only Relate To In The Fall If You're From New England
Apple cider donuts, pumpkin patches, and corn mazes — oh my! It's almost scary how much there is to do during the fall in certain corners of the country. Most of the time, you don't even know where to start. Should you go hiking, or maybe break out your fall sweaters for an entire afternoon? (Making room in your closet is going to be the worst, huh?) Well, let me tell you, there are a lot of little struggles you deal with in the fall, especially if you're from New England. Can I get a, "Oh my gourd?"
In my personal opinion, nobody quite does autumn like New England. I'm a little bit biased, having grown up and lived in the area since day one, but anybody who visits one of those huge fairs and sees the foliage from the top of a Ferris wheel would instantly agree (or at least be convinced a few minutes later after having a loaded baked potato).
Yes, those states really know how to make the most of these months — filling the air with cinnamon and getting outdoors to enjoy the natural beauty that awaits. Unfortunately, if you live in the area, you know that there are at least 15 struggles you face every year. Am I right?